Georg F. Kennan: An American Life by John Lewis Gaddis
I chose thi
s book because it was a Pulitzer Prize winner. I almost stopped reading this book, but gave it the "50 pages test and decided to keep going. After the first 100 pages, I knew I wanted to finish the book. George F. Kennan was a key drafter of the containment policy again the Soviet Union in the years after World War II. He was often ahead of his time in his recommendations.
It was a fascinating historical discussion, but I found several connections with his life, which made the biography even more interesting. The book made me want to read Chekov and more history. In the end, I hated for the book to end. The book took us deeper into the story of U.S. foreign policy and the different ways people arrived at their policy suggestions.
The book reminded me of the inside story of the Lincoln cabinet in "Team of Rivals: The Political Genius of Abraham Lincoln" by Doris Kearns Goodwin, which I read several years ago. Kearns was also closely worked with Robert Oppenheimer, whose biography was written in "American Prometheus"
Homeland by Cory Doctorow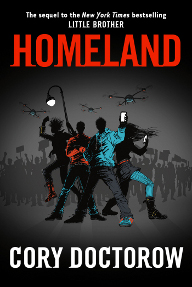 Cory Doctorow's latest book was written for a Young Adult audience, but anyone with a tech interest could enjoy this book. It's very timely, and helped boost my awareness of technical issues — I learned as much as I enjoyed.
The challenge with such a story is that wanting to learn more becomes the jump into the deep end of the pool. There's not always a good intermediate step. He does provide some "next step" places to go, which I appreciate. I was always glad when Michael Crichton did that in his novels — I wish more authors would do that.
The distribution of this book is different, but it seems to work. Doctorow is giving away copies of the book through his Craphound web site. He asks that if you like the book you give a copy to a library that has requested it. That's how my local library got a copy of the book.