Toms River: A Story of Science and Salvation by Dan Fagin
"Toms River" is frustrating because it shows how slow it takes to determine if there is a problem and the delays in implementing a solution. Fifty years my be a short time for new scientific research, but it's a lifetime for people impacted and the businesses that could be held accountable.
Rage Against the Dying by Becky Masterman
Masterman gave me different views of characters and place, which is one reason I chose it. It had some rough edges, but still enjoyable. This one is set in Arizona and the main character is a former FBI agent, in her late 50s.
Capital in the Twenty-First Century by Thomas Piketty
"Capital" is a very long-term look at wealth that argues that wealth is becoming more concentrated, contradicting the common outlook.
The book looks at the situation in several countries, and reaches the same consequence. Hi recommendation of a one-time tax to redistribute wealth is not likely to be enacted anytime soon.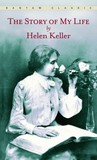 The Story of My Life by Helen Keller
A very different view of Helen Keller than from the movie "Miracle Worker". Her life into college and later was also very interesting and the support of Anne Sullivan and others give a more enjoyable and broader view.